USA apologises to UAE over arrest of 'suspected terrorist'
Comments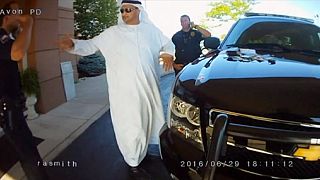 The United Arab Emirates has advised its male citizens not to wear the white robes, headscarf and headband of the national dress when travelling abroad.
It comes after a man on a business trip in the US state of Ohio was wrestled to the ground and arrested over fears he had ISIL connections. He then appeared to collapse.
Women have also been urged to avoid wearing face veils in nations where they are banned.
Avon city Police Chief Richard Bosley issued an apology.
"No one from the police department (meant) to disrespect you. That was not the intent of the actions of our officers. It is a very regrettable circumstance that occurred for you. You should not have been put in that situation like you were."
The UAE's Foreign Ministry has summoned the US Deputy Ambassador to decry the "abusive treatment by the Ohio police of a UAE citizen" and to protest against the filming of his arrest.