Holiday jobs mean big fall in Spanish unemployment
Comments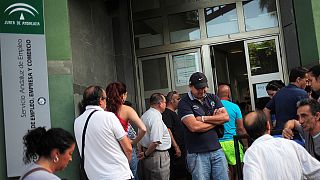 The tourism season has meant a big boost in the number of people in work in Spain last month.
The total of registered unemployed fell to its lowest level since September 2009.
Compared to May, it was down 124,349 – at 3.77 million.
It was the fourth straight month that the number of people out of work has fallen, though Spain still has the second highest level of joblessness in the European Union after Greece.
The official unemployment rate was 21 percent between January and March.
More than a third of the new jobs created were in the hospitality industry.
The number of tourists travelling to Spain this year is expected to rise to record levels.
Holiday makers are avoiding North Africa and the middle east amid rising geopolitical tensions there.
The total number of workers paying in to the social security system rose by 98,432 people to 17.76 million.
Spain's caretaker government has promised to lift the workforce to above 20 million by 2020.
However a split vote at the first election last December and again on June 26 has left the country without a functioning parliament for over six months.
NEW | This week our economic blogs review focuses on #Spain's high level of unemployment https://t.co/jw3AIF88Typic.twitter.com/wZa3DXAYWE

— Bruegel (@Bruegel_org) July 4, 2016