''Chères collègues, do not let Scotland down now!"
Comments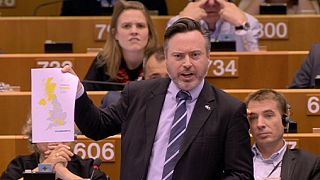 Scottish MEP Alyn Smith has urged those inside the European Parliament to stand by his country following the dramatic Brexit result.
Speaking inside the European Parliament in Brussels on Tuesday Smith said: "I represent Scotland within this house. And I'm proudly Scottish, I'm also proudly European, and the people of Scotland, along with the people of Northern Ireland and the people of London and lots and lots of people in Wales and England also voted to remain within our family of nations. Scotland did not let you down, please, I beg you, chères collègues, do not let Scotland down now!"
His statement won a standing ovation from other MEPs.
Scotland's First Minister Nicola Sturgeon has vowed to do all she can to try to keep the country inside the European Union.
Scots rejected independence by 55 to 45 percent in a 2014 referendum in which EU membership was presented as one of the key advantages of remaining part of the UK.
Sturgeon argues that the Brexit vote has changed the context so profoundly that Scots should be able to vote again on the issue, should independence turn out to be the best way for Scotland to remain an EU member.