British finance minister breaks Brexit silence and markets shrug
Comments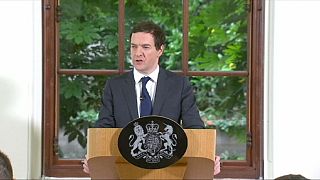 British Finance Minister George Osborne looked nervous and less assured on Monday morning when he broke his post-Brexit silence to calm the markets.
On Friday, the pound's worse day in modern history, he was nowhere to be heard, nor since. On Monday he said he expected volatility, but that the world's number five economy would cope with the challenge, a challenge he said had already been planned for by his team.
"Those markets may not have been expecting those referendum results but the Treasury, the Bank of England and the Financial Conduct Authority have spent the last few months putting in place robust contingency plans for the immediate financial aftermath in the event of this result. We and the PRA, (The Prudential Regulation Authority), have worked systematically with each major financial institution in recent weeks to make sure they were ready to deal with the consequences of a vote to leave," said Osborne.
His statement prevented an initial rout of the pound gaining any momentum, but sterling, rather than shares, appears to be the main immediate worry.
"There has been a certain amount of contagion in international markets, but I don't think that anybody is arguing that we are looking at systemic failure of the world financial system. Of course authorities have done much good work to improve and increase the resilience of the global financial system. As George Osborne only this morning pointed out, banks in the UK have something like ten times the capital that they had in 2007- 2008," said BGC Partners' Mike Ingram.
The sell-off that has brought the pound to a 31-year low against the dollar has also dragged the euro down, 10-year gilts are now at a record low, below one percent and a rate cut and more QE is being forecast before the year's end.