Fencing: France defend European team epee title
Comments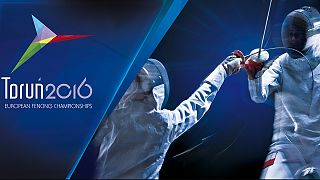 France grabbed their second gold medal of the European Fencing Championships in Torun, Poland on Friday.
After Yannick Borel won the men's individual epee gold earlier in the week, he joined forces with his compatriots to help win the men's team epee title beating Italy in the final.
Gauthier Grumier, Daniel Jerent and individual epee bronze medallist Jean-Michel Lucenay completed the top seeded quartet to hand France their second straight European crown in the discipline.
Ukraine took bronze.
Italy were denied another gold on the penultimate day of competition when Russia's women exacted sweet revenge for their final defeat in last year's championships to win the team foil title.
Inna Deriglazova, Larisa Korobeynikova, Aida Shanaeva and Adelina Zagidullina struck their nation's fifth gold of the competition.
France beat Hungary to claim bronze.