Man dies after hostages seized in German cinema
Comments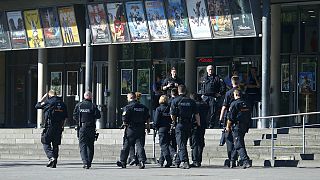 Alleged attacker dead
At least 25 affected by irritant gas
Scroll down for info and pictures from scene

What has happened?
There has been a full-scale security alert after hostages were taken at a cinema complex in Germany.
The alarm was raised just after 3pm on Wednesday afternoon at a multiplex theatre in Viernheim, a city just south of Frankfurt.
Shots are said to have been fired inside the building.
It is understood several people were then taken hostage.
Is the situation now under control?
Yes.
A full security alert involving special forces swung into operation.
The situation has now been brought under control and officers are carrying out a full safety inspection of the site.
All hostages have been released.
How many people were hurt?
It is not clear.
Reports vary on the number of people injured.
At least 25 and possibly as many as 50 are thought to have been affected by an irritant gas released at the scene.
What about the man who died?
Local media, quoting Hesse state officials, say the alleged attacker died from gunshot wounds at the scene.
There have been no other fatalities.
What about a motive for the attack?
Local officials say it is too early to speculate on what may have prompted the attack.
In tweets
Gunman in German cinema incident reported dead https://t.co/U3jn7lLZPd

— Wall Street Journal (WSJ) <a href="https://twitter.com/WSJ/status/746002647564566528">June 23, 2016</a></blockquote> <script async src="//platform.twitter.com/widgets.js" charset="utf-8"></script> <p> <blockquoteclass="twitter-tweet" data-lang="en"align="center"><p lang="en" dir="ltr"><a href="https://twitter.com/hashtag/Viernheim?src=hash">#Viernheim</a> shooting: Official saidthe gunmandead: AP <a href="https://t.co/T8mUuKeWOv">pic.twitter.com/T8mUuKeWOv</a></p>&mdash; People&#39;s Daily,China(PDChina) June 23, 2016
BREAKING — Shootingata cinemain Viernheim, Germany; injuries reported, attackermasked, wearingammunitionbeltpic.twitter.com/b6KTETuwA2

— DAILYSABAH (@DailySabah) June 23, 2016