Spain's PM Rajoy warns of possible Podemos victory in Sunday's elections
Comments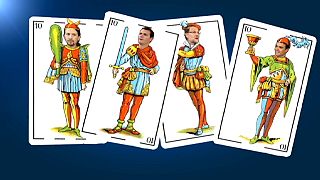 Spain's acting conservative Prime Minister Mariano Rajoy has warned that the far-left Unidos Podemos ("United We Can") alliance could win this weekend's general elections that may well shake up the country's political system.
The anti-austerity group has boosted its support by striking a deal with the United Left, once part of the communist party.
According to opinion polls Podemos is consolidating its position as the country's second biggest political force, just three points behind the ruling conservatives.
"We are very close to defeating the Popular Party in the elections. We are very close. And they are very worried about it for what it means," Podemos leader Pablo Iglesias told a gathering of supporters.
EDITORIAL: Millions in Spain support ahorapodemos</a> unaware of its true intentions <a href="https://t.co/fts8x2Azey">https://t.co/fts8x2Azey</a> <a href="https://twitter.com/hashtag/26J?src=hash">#26J</a> <a href="https://t.co/eu8tYGCnmq">pic.twitter.com/eu8tYGCnmq</a></p>&mdash; El País in English (elpaisinenglish) June 21, 2016
The prime minister's centre-right party is predicted to top the poll on Sunday, but almost certain to come way short of an overall majority it will have its work cut out seeking coalition partners.
Both the Socialists and centrists have made it clear they will not back a government led by Mariano Rajoy. He has responded by brushing off any suggestion of standing down, criticising those whose support he may need.
"Refusing to negotiate is nothing other than a demonstration of weakness from those who dare not talk and reach agreements with those who are different," Rajoy told guests at a dinner.
How not to eat ice-cream and other lessons on campaigning in Spain https://t.co/nGgYzqzxD0#PP#PSOE#Podemos#Cspic.twitter.com/Im3Y95UckW

— The Local Spain (@TheLocalSpain) June 20, 2016
The Socialist Party (PSOE) risks failing to come first or second for the first time in Spain's democratic era. Its leadership has been campaigning inside people's homes in a bid to connect with voters.
The party under Pedro Sánchez risks being squeezed after talks collapsed with Podemos, angry at the socialists' support for government austerity measures.
Ready to play kingmaker with either conservatives or socialists, Albert Rivera of the centre-right Ciudadanos party, in fourth place according to the polls. The movement's business-friendly deal with the socialists led to the collapse of talks between the mainstream left and Podemos earlier this year.
The elections come after the king of Spain dissolved parliament after no party formed enough seats to form a government in last December's vote.
What is uncertain amid the manoeuvring is the shape of a future government.
What seems highly likely is that Spain's traditional two-party system looks set to be blown apart.
"The electorate wants more action…" El Roto: https://t.co/b2uYNGNn9e#26J#Spainpic.twitter.com/WU5fBarcDa

— El País in English (@elpaisinenglish) June 20, 2016