The birth and growth of Italy's Five Star Movement
Comments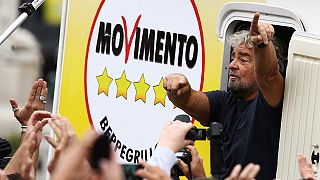 The Five Star Movement was launched seven years ago and founded as a protest party by the Italian comedian Beppe Grillo. The aim was to end the traditional political class in the country. It is now on its way to becoming the second force in parliament.
As a campaigner he railed against the system and electrified the crowds.
"Me I don't want any barriers, they have been put in place here to protect you from me, because the barrier is the symbol of Italy these days. I am not here to tell you stories, no voice, I don't have a voice anymore. You have listened to these things, since the founding of Italy in 1860 they have been telling the lies here in Sicily," he told supporters at one rally.
Beppo Grillo started by organising a series of huge demonstrations in 2007 against the political class, roughly translated they were called " tell them where to get off" days.
The Five Star Movement was born in 2009 – in the middle of the malaise towards traditional politics when Beppe Grillo's blog evolved into a place for direct participation where activists were invited to comment on policy guidelines and the selection of candidates.
By drawing on the right and left of politics the measures of party are varied: no longer is the party seen as one of protest. Proposals now include the establishment of a minimum income, a referendum to exit the eurozone, universal income support for the poor, tougher measures on white collar crime and tax evasion. The movement wants to cut taxes for small businesses while free internet for all is another measure.
It made a sensational debut surprising many political watchers in the parliamentary elections of 2013 when it won around 25 percent of the vote.
Refusing to join forces with any party, in May last year the Five Star Movement decided not to support a bill to give gay couples the right to a civil union which 80 percent of activists in the movement had backed.
According to some political commentators the move was to avoid alienating the right and handing a political victory to the government.
The 67-year-old comic took a back seat 18 months ago but still wields huge influence across the party and is seen by some as the supreme judge.
It's reported Grillo can axe potential candidates. Local representatives are bound by a code of conduct that requires them to seek permission from the "staff" of the movement for every important decision.