Protesters in Athens call on Syriza government to go
Comments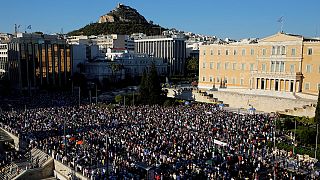 Thousands of protesters have hit the streets of Athens calling on the country's left-wing government to quit.
Demonstrators gathered in the capital's Syntagma Square holding banners, which read ''Resign and 'Go Home'.
The rally follows a wave of recent austerity measures approved by parliament, including pension reforms and tax hikes.
Those were demanded by the country's international lenders in exchange for vital bailout funds.
"The people came here spontaneously, they are all dissatisfied with this supposedly left-wing government that has turned out to be more right-wing than the real thing," one woman said.
"The people are reacting to the endless lies and this government's political cheating. They took power with nothing but lies, lies, lies," said another protester.
''I voted twice for Tsipras. He's kept none of his promises.They've cut my pension in half. What else can I do?, declared another protester.
From Athens Euronews' Stamatis Giannisis said: "Only nine months after Syriza won a second successive general election, recent polls show a rapid decrease in the popularity of the radical left ruling party. And with more austerity on the horizon, this protest rally may well be just the tip of the iceberg for Alexis Tsipras and his coalition government, in terms of what lies ahead.''