Orlando Pulse nightclub shooting: what we know
Comments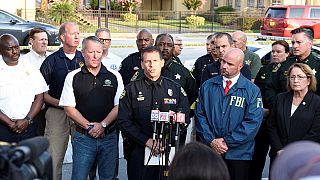 Omar Mateen killed 49 people and wounded 53 others after opening fire at a gay nightclub in Orlando, Florida
Police shot him dead after smashing into club in an armoured vehicle

ISIL

claim responsibility
Mateen inspired by

ISIL

but group did not direct him to act, say US authorities
Family say they suspected nothing although Mateen, 29, had shown anger about homosexual behaviour
Automatic weapon used in the attack was legally purchased
The attack
The first clubbers knew of the attack was when gunshots broke out on the dance floor just before closing time around 2am on Sunday morning. Several hundred customers were enjoying "Latin night". Witnesses reported hearing sustained shooting, as those inside ran for cover or fled.
Javer Antonetti, told the Orlando Sentinel newspaper that he heard "at least 40 shots…It was constant, like 'pow, pow, pow'".
Christopher Hansen said he was in the VIP lounge when the attack began.
"I was thinking, are you kidding me? So I just dropped down. I just said please, please, please, I want to make it out."
Shooting at Pulse Nightclub on S Orange. Multiple injuries. Stay away from area. pic.twitter.com/5Di2mc6XUY

— Orlando Police (@OrlandoPolice) June 12, 2016
"Everybody was just running." #PulseShootingFOX13News</a> <a href="https://t.co/gF8G0afAr5">pic.twitter.com/gF8G0afAr5</a></p>&mdash; Evan Lambert FOX 13 (EvanLambertTV) June 12, 2016
The police response
An officer who was at the club exchanged fire with the gunman, who then took refuge inside the club with around 30 hostages. People hiding in the toilets texted updates to police who decided as a result to launch a raid around 5am local time.
An armoured vehicle was used to break into the building while a large explosion, which police said they initiated using a "distractionary device", possibly a stun grenade, rang out. Police say the gunman was shot and killed. One police officer was shot in the head but survived thanks to his helmet.
Pulse shooting: In hail of gunfire in which suspect was killed, OPD officer was hit. Kevlar helmet saved his life. pic.twitter.com/MAb0jGi7r4

— Orlando Police (@OrlandoPolice) June 12, 2016
The victims
Police have begun releasing the names of the victims: Edward Sotomayor Jr.; Stanley Almodovar III; Luis Omar Ocasio-Capo; Juan Ramon Guerrero; Amanda Alvear; Cory Connell.
The gunman
Suspect identified as Omar Mateen, 29. An American citizen born in New York. FBI</a> first became aware of him in 2013 <a href="https://t.co/gt18lhTM4G">pic.twitter.com/gt18lhTM4G</a></p>&mdash; Orlando Police (OrlandoPolice) June 12, 2016
The gunman was Omar Mateen, born to Afghan parents in New York. He worked as a security guard.
He had been married and had a young son.
Federal law enforcement agencies said that they had interviewed him twice as part of undisclosed investigations but not found any cause to take the matters further. The FBI had also looking into links with an American who travelled to the middle east to become a suicide bomber, according to NBC
Mateen's father, Mir Seddique, told NBC that his family had no idea why Omar would commit such an attack but said it was not linked to religion. However, his son had become angry when he saw two men kissing a few weeks ago.
ISIL have claimed responsibility for the attack via their Amaq news agency and CNN reported that the gunman himself had called 911 to declare allegiance to the organisation.
Mateen was armed with at least one assault rifle and a handgun which he had bought legally in Florida within the last week, according to police. Several "suspicious devices," most likely suspected bombs, were found in the area, including one on his body and one in his car.
Police say they they are not seeking another suspect.
The club
The Pulse club describes itself on social media as "Orlando's Premiere Gay Ultra Lounge Nightclub and Bar".
First opened in 2004, the club was advertising its Latin night on June 11, promising reggaeton, Bachata, Merengue and Salsa. More than 300 people are believed to have been present.
At around 9am CET, 3am local time, the club posted on Facebook: "Everyone get out of pulse and keep running."
As soon as we have any information we will update everyone. Please keep everyone in your prayers as we work… https://t.co/3EY0fQ926m

— Pulse Orlando (@pulseorlando) June 12, 2016
The context
Barack Obama addressed the nation following the shooting, expressing solidarity with the communities affected and once more raising the issue of gun control.
The attack is the deadliest mass shooting in modern US history, surpassing the toll of 32 killed by Virginia Tech student Seung-Hui Cho and the 27 victims of Sandy Hook school gunman Adam Lanza.
It also occured just a day after the murder of Voice singer Christina Grimmie, also in Orlando.
Huge queues formed outside blood banks in the area after many hundreds of people turned up to donate.
#Orlando at its finest! Lines wrapped around blocks to donate blood! This is my home. #PulseShooting#Pulse#wftvpic.twitter.com/P5TfQmilk8

— Brian Shields (@BShieldsWFTV) June 12, 2016