Death threats force Afghan Messi fan to flee
Comments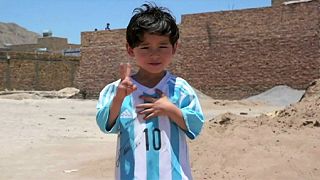 The family of an Afghan boy who shot to fame after being photographed wearing a home-made Lionel Messi shirt has been forced to flee to Pakistan after receiving death threats.
Four months after Murtaza Ahmadi became an internet sensation his family says his new found popularity has made him a prime target for kidnappers.
"At first we were very happy, as my son became famous. but later I received several phone calls from kidnappers who said that by indulging in football, my son will become a non-believer, and he is not reciting the Holy Quran and that they will kidnap him. They wanted money, so we came to Pakistan," explained his father Arif Ahmadi.
"He always loves football, and his favorite player is Lionel Messi. One day he asked me for a professional jersey, but as we were poor, we could not afford a real one. So i cut one from a shopping bag, took his pictures and put them on my Facebook. I didn't think he would become so famous," said his brother Humayon Ahmadi.
Five-year-old Murtaza still hopes to practice ball skills with his idol despite his family's self-imposed exile.