Secretive Bilderburg Meetings open in Dresden
Comments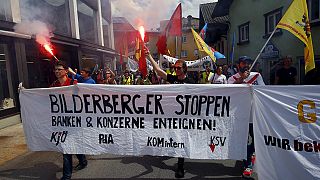 It has been dubbed the world's most high-powered but secretive annual meeting where bankers mingle with politicians. The annual Bilderburg Meetings have opened in Dresden. There are no votes, no resolutions and no minutes are recorded, which the organisers say allows participants to speak frankly about world issues.
However, this level of secrecy leaves it open to attack by conspiracy theorists who claim the global elite are plotting a new world order.
Among those attending are IMF chief Christine Lagarde, European finance ministers, Oil and Car company CEOs, and topics of discussion include Europe's migrant crisis, the US presidential race as well as Brexit.
Under heavy guard, the five-star hotel venue was sealed off to the public for the three day event.
Protesters took up position outside to demonstrate against the lack of transparency saying politics and the economy are already too closely linked.