Suspect arrested after deadly attack on Jordan refugee camp
Comments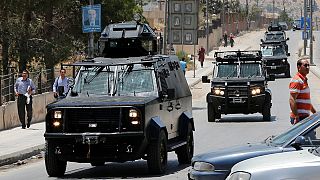 At least five people have been killed in an assault on a security office in the Baqaa refugee camp outside the Jordanian capital.
Individual and isolated act.

Government spokesman
Security sources were quoted on state television as saying a suspect was later arrested following a major manhunt.
Government spokesman Mohammed Momani said initial evidence pointed to an "individual and isolated act."
Reuters, quoting an official source, says an assailant drove up to the camp's intelligence agency, fired a machine gun and sped away.
A government official confirmed that three intelligence officers and two other security personnel died in the assault, which occurred on the first day of the Muslim holy month of Ramadan.
Momani labelled the early-morning incident a "terrorist attack." He gave no specific details, but said those who carried out the assault showed "the criminal behaviour of people who are outside our religion."
Jordan slams 'cowardly' attack on its intelligence office near Amman in which 5 people died https://t.co/PAVyHFVXSEpic.twitter.com/EkEnikqisS

— Middle East Eye (@MiddleEastEye) June 6, 2016
No individual or group has claimed responsibility for the attack.
The sprawling Baqaa camp was set up in 1968 to house Palestinian refugees fleeing the West Bank and Gaza Strip after the 1967 Arab-Israeli war.