French finance minister left with egg on his face as labour law protests continue
Comments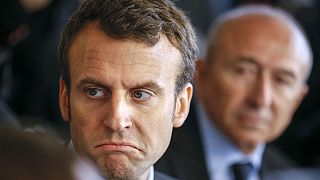 Emmanuel Macron was left with egg on his face at an event in Montreuil.
France's Finance Minister was pelted with eggs when alleged supporters of the hardline CGT union closed in on him in the Parisian suburb.
Macron was launching a stamp to celebrate the 80th anniversary of the Popular Front movement, a party credited with giving French workers new rights.
But the inauguration came on the sixth day of rail disruptions and in the midst of months of upset nationwide over planned labour reforms.
Industrial action on the railways now appears to be running out of steam and strikes in the oil sector are also on the decline with two of Total's five refineries in northern France being prepared to recommence operations.
Opponents say the labour law will result in more work for less money and decreased job security. The government, however, claims it will encourage the hiring of staff.
Prime Minister Manuel Valls invoked article 49.3 of the Constitution allowing the government to bypass parliament and pass the bill
The reform proposals are passing through Senate and will return to the National Assembly for a second reading in July.