Clinton and Sanders contest the last Democratic "Super Tuesday"
Comments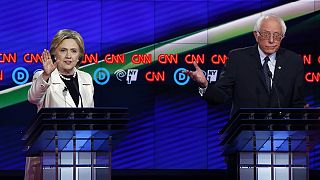 Washington awaits as the race to the White House edges closer to the line. Democrats will wrap up their primary process with the last "Super Tuesday".
Projections give their front runner Hillary Clinton more than 60 percent of the vote, compared with just over 35 percent for her rival, Bernie Sanders.
The AP news agency reports that the former secretary of state has already reached the number of delegates required to clinch the nomination.
But she says she still has work to do, as do others on the campaign trail with her.
"Democrats are not entirely sold on Hillary Clinton. Many of them agree that she is the most qualified or that she has the resume to do the job, but many of them question whether she shares their values. It's going to be a challenge for her to really consolidate those people, especially younger people who not only don't know her as well as older Democrats do, but they don't trust her," opined Abby Phillip, political reporter, Washington Post.
Her strategy to unite the Democrat Party and to win the youth vote has been clear ahead of the Democratic convention in July. But her path to Washington has also been potentially blocked by Bernie Sanders.
He has ignored calls to drop out of the race and rally round Clinton. He has promised to stage a floor fight for delegates at the convention. Some pundits believe this is playing straight into the hands of the Republican Party.
Ironically, says one, Sanders' tactics could put Donald Trump in the Oval Office.
"By continuing the struggle, even above and beyond the point at which he is mathematically eliminated, Sanders is accomplishing one thing and one thing only: the election of Donald Trump. So Sanders is on a suicide mission. He can't win, he can't become the nominee, but he can elect Donald Trump, a candidate who he believes is just the opposite of everything he stands for," Allan Lichtman, Presidential historian, American University told Euronews.
The 74-year-old, who it's been estimated has more supporters under the age of 30 than Clinton and Trump combined has urged media outlets not to call the outcome just yet. He has vowed, "the Democratic National Convention will be a contested convention."
Stefan Grobe, Euronews' Washington correspondent, reported: "At some point, Bernie Sanders will have to concede to Hillary Clinton, be it this week or at the Convention. The question is whether his supporters will accept defeat and rally around her. The longer Sanders waits, the harder it will be to unite the party for the general election."