14 dead after school bus crashes in southern Turkey
Comments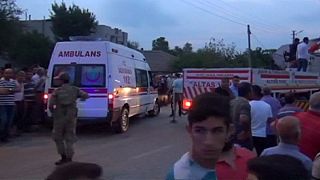 A bus carrying school children, teachers and parents has crashed in southern Turkey killing fourteen people, six of them children.
The bus was taking them home from a weekend trip to a national park in the southern province of Osmaniye.
"The accident took place around 1930 local time, said regional governor Kerem Al, Osmaniye. "The bus collided with a taxi, a vehicle, at the turn near the Hasantas dam and plunged into the canal."
Rescuers worked in the dark to pull the bus out of the water as the injured, mostly children, were rushed to hospital.
Road accidents are common in Turkey because of poor road conditions, careless driving and weak enforcement of safety regulations.
VİDEO – Osmaniye'de 14 kişinin hayatını kaybettiği feci kaza kamerada!https://t.co/sUcGqCxBoApic.twitter.com/afDZZTvrZD

— soL Haber Portalı (@solhaberportali) June 6, 2016