Matteo Renzi's popularity is tested as Italy goes to the polls in mayoral elections
Comments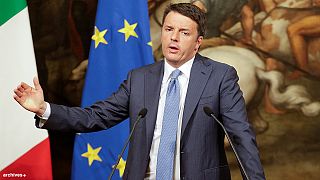 All eyes are on Matteo Renzi as some of Italy's largest cities vote in mayoral elections widely considered a popularity test for the prime minister and secretary of the Democratic Party.
La campagna elettorale è incontro, abbraccio, affetto. Grazie a chi è stato con noi oggi. Avanti tutta pic.twitter.com/0XiOY3amup

— Matteo Renzi (@matteorenzi) June 3, 2016
(
"The election campaign meeting, hug, affection. Thanks to those who have been with us today. Full speed ahead"
)
Five Star Movement
The anti-establishment Five Star Movement is expected to make a big breakthrough nationwide. Promises of universal income support for the poor and an in-out eurozone referendum have proved popular among voters, polls suggest, as is its image as a fighter of corruption and privilege.
"Sono pronta a essere il primo sindaco donna di Roma" @virginiaraggi#coRAGGIo

— Movimento 5 Stelle (@Mov5Stelle) June 3, 2016
(
"I'm ready to be the first female mayor of Rome." #Courage
)
In Rome, Five Star candidate Virginia Raggi is hoping to become the city's first female mayor. The 37-year-old lawyer was ahead in opinion polls before they ceased to be published 15 days ahead of the vote, in line with Italian law.
#Rome#Italy on track to get 1st female mayor, Virginia Raggi of populist 5 Star movementhttps://t.co/S2nDOtIPlt

— Sons of Italy (OSIA) (@Sons_of_Italy) June 3, 2016
Milan, Turin, Naples
Political attention will also be focussed on Milan, Turin and Naples.
Milan
Milan is considered Renzi's most-important contest. Guiseppe Sala is his Democratic Party contender. The former head of Milan Expo 2015 initially looked like a shoe-in to win, but now appears threatened by the centre-right.
#Amministrative2016 alle 11.45 diretta PD @matteorenzi e Giuseppe Sala #avantiMilanohttps://t.co/YGOubsFxQgpic.twitter.com/9XXhomNNaY

— Partito Democratico (@pdnetwork) May 31, 2016
Turin
Incumbent Mayor of Turin, Piero Fassino, now appears the only clear favourite of the Democratic Party candidates.
In addition to Renzi's support, he also appears to have the backing of Mayor of Lyon (France), Gerard Collomb.
.@gerardcollomb merci bien pour ton soutien. Allons de l'avant ensemble! #perAmorediTorino.

— Piero Fassino (@pierofassino) June 3, 2016
(
"Thank you very much for your support. Let's go forward together!" #fortheloveofTurin
)
Naples
Naples was declared a "Renzi-free zone" by Luigi de Magistris. The independent, left-wing incumbent and former prosecutor is widely expected to come out on top in the southern city.
8 giorni di lotta ancora con amore e passione per portare Napoli attraverso il suo popolo in testa.Davanti,forte e autonoma.Napoli Libera!

— Luigi de Magistris (@demagistris) May 28, 2016
(
"8 days remain of passionate strugges to bring Naples through with its people at the head. Forward, strong and independent. Free Naples!"
)
What next?
Some 13 million people are eligible to vote.
Before the halt on publishing, opinion polls had suggested no candidate would win more than 50 percent of Sunday's (June 5) city votes.
If this proves to be the case, those who come in first and second on June 5, will compete in run-off elections on June 19.