Europe's Copernicus emergency system activated to manage floods
Comments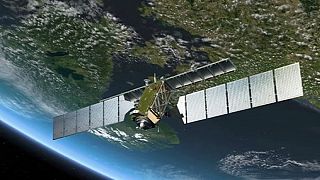 The European Commission's emergency management system Copernicus has been activated to deal with the floods in France, Belgium and Germany.
The Copernicus project is funded by the EU and the European Space Agency (ESA).
SERTIT is a company which manages the data recovered by the Copernicus system.
"Satellite images have the advantage regarding aerials or images from drones that they can cover bigger areas," Stéphanie Battiston, deputy head of SERTIT told Euronews. "For example, in France, we can cover the area Le Loing river [which is currently flooded]. And if we have to follow the situation over several days, we can cover the whole pond with a single shot every day."
The system can peer down through thick clouds to give 3D maps helpful for rescue workers and weather forecasters.
"Every day we offer maps, depending on what the 'users' ask us for. This allows them not just to calculate the size of the rescue teams that they would need on the field, but also to know where to send them exactly, or where are the priorities," added Battiston.
Copernicus aims to effectively manage emergencies and improve the security of every citizen.
It's been described as the most ambitious Earth observation programme to date.