OPEC fails to agree on limiting output, denies it is 'dead'
Comments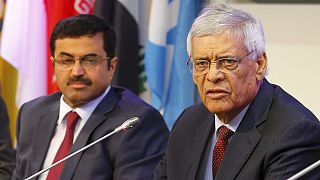 When is a cartel not a cartel? Perhaps when its members can't agree on a common policy.
At its latest meeting OPEC failed to agree on limiting output which would have boosted the price of crude.
Though Saudi Arabia – represented by new energy minister Khalid al-Falih – did promise not to flood the oil market with extra barrels.
His Iranian counterpart Bijan Zanganeh kept his criticism of the Saudis to an unusual minimum but insisted on Tehran's right to raise production steeply rejecting a ceiling on output. He told reporters: "No, I think any [production] ceiling without country quotas means nothing."
Is
OPEC

dead?

So with no consensus on regulating the price and supply of crude, outgoing Secretary General Libya's Abdalla Salem el-Badri was inevitably asked is OPEC dead? He strongly denied that: "Don't take that notion that OPEC is dead. OPEC is alive, OPEC will be a very important segment of the economy of the world."

The OPEC members were able to agree on one thing – his replacement.

They decided unanimously on Mohammed Sanusi Barkindo from Nigeria, who takes over from the start of August.

Asked by Bloomberg news about the splits within OPEC he said: "What is currently happening has been over exaggerated."

He said he is confident the future is bright and that OPEC will not only continue to survive but will continue to adapt to the changes that are sweeping the global industry.

He concluded: "The market is gradually but steadily rebalancing and the expectations are that from the fourth quarter of this year to Q1/Q2 of next year we will begin to see some equilibrium in the market."