Messi testifies in tax evasion trial
Comments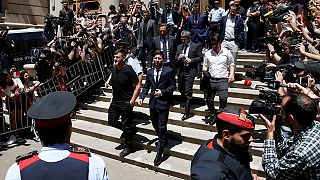 Five-time world player of the year Lionel Messi appeared in a court in Barcelona on Thursday to testify against charges of tax evasion.
Both Lionel and his father Jorge Horacio Messi are accused by the Spanish tax office of defrauding the government of 4.2 million euros.
The Barcelona star told judges he was unaware he was partaking in any wrongdoing.
He said: "The truth is that I knew nothing. As my father explained, I was devoted to playing football, I trusted my father, I trusted the lawyers he had chosen to run things and I had no idea about anything."
The case centres on a web of shell companies allegedly used to evade taxes on the players income from image rights.
The pair face up to 22 months in prison but in Spain – offenders of a non-violent crime with a sentence under two years usually do not serve time.
The trial is expected to end on Friday.