No need to hit the brake: Honda demos self-driving cars
Comments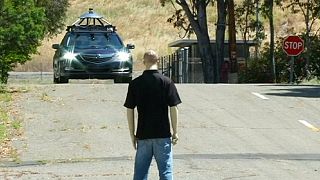 Honda's been showing off some of the features of its self-driving cars at a former military base in California.
The prototypes navigated around with no one at the wheel as forward-collision warning meant they automatically stopped if someone walked in front of them.
They can also let drivers know if their vehicle is wandering from its lane and correct that.
Those are features that are already built into its latest Acuras and Civic models, but the Japanese carmaker has said it plans to have completely autonomous vehicles for sale within four years across its whole range and not just in the luxury segment.
"A lot of our competitors are developing luxury vehicles but I think the key differentiator for Honda is we're coming out with a suite of technologies that are going to change over time — AcuraWatch and the Honda Sensing will be platforms for the future. So a lot of the technologies that are built in to the expensive cars, we're trying to democratise that down to more mass market — the Honda Civic, the Accord and the Pilot for use by all our customers," said Jim Keller, chief engineer for Honda Research and Development Americas.
First Look: Honda's Self-Driving Car: Honda demoed its autonomous vehicle technology at an abandoned weapons … https://t.co/Ejr93z1CUG

— A2Z Technology News (@a2ztechnews) June 2, 2016
The vehicles are being tested at the GoMentum Station, a 5,000-acre former naval munitions zone that features 20 miles of paved roadway, tunnels and other infrastructure.
The site in Concord, California, about 50 kilometres northeast of San Francisco, hopes to lure other carmakers to test autonomous cars there. Besides Honda, the French maker of driverless shuttles, Easy Mile, also tests there.
Take a look inside the military base ghost town that Honda</a> uses to test self-driving cars. <a href="https://t.co/uzioFt7F2N">https://t.co/uzioFt7F2N</a> <a href="https://t.co/fVH5HQEOnP">pic.twitter.com/fVH5HQEOnP</a></p>&mdash; Autoblog.com (therealautoblog) June 2, 2016