Pele collection to go under the hammer
Comments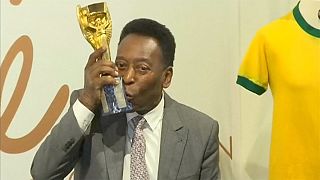 Pele's footballing life is to go under the hammer next week at an auction in London.
The Brazilian three-time World Cup winner is to sell off his vast collection of over 2 000 items, including his personal Jules Rimet Trophy.
He will be donating part of the proceeds to a children's hospital in Brazil with the rest going to support his old club Santos.
Pele said: "One of the advice from my brothers was 'listen, you are gonna stay with your trophies in the house? What are you going to do?' I said 'they are going to be in my house' and they said 'no, no try to help the people with your trophies.' That was the decision to do this, to help the charity and the children."
Also up for grabs are Pele's three world cup medals, which are expected to reach as much as 180,000 euros each.
Some experts believe the collection could fetch 6.5 million euros.