Operation Condor: historic human rights trial verdict expected
Comments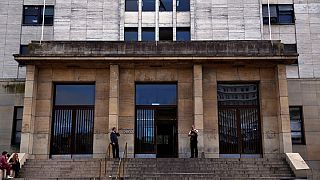 The final verdict in an historic human rights trial is expected in Argentina later on Friday.
Operation Condor was an organised programme of state-sponsored terror carried out by South American dictatorships during the 1970s.
The military crackdown by US-backed regimes was devised to hunt down, kidnap and eliminate thousands of exiled leftist opponents..
Eighteen former army officers – including Reynald Bignone, Argentina's last dictator – are in court. Now 88, he faces 20-years in jail, on top of a 15-year sentence he is already serving for the theft of babies born to political prisoners.
Since the trial began in 2013, several defendants have died, including Jorge Videla, the head of Argentina's junta during its first three years.
The exact number of victims killed by Operation Condor may never be known, but the evidence surrounding the deaths of more than 100 left-wing activists from Uruguay, Chile, Paraquay, Bolivia and Argentina, has been presented in court in Buenos Aires.
Declassified US intelligence documents helped prosecutors show how the South American regimes communicated with each other to identify and kill political exiles in neighbouring countries during the height of the Cold War.
Originally drawn up in 1975 by Intelligence chiefs from Argentina, Bolivia, Chile, Paraguay and Uruguay, Operation Condor was later expanded to include Brazil.