Fashion retailers decide weather or not
Comments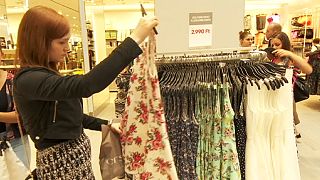 Being on the cutting edge of fashion and staying in profit is a delicate balance for the world's big clothing retailers, and the weather is one huge factor that's completely out of their control.
Understanding how customers react to climatic condition is vital.
Euronews Budapest correspondent Beatrix Asboth reports: "Recently, fashion groups have more and more said unusual, even extreme weather has had a negative impact on sales growth. A British study from 2014 highlighted the weather's effect on consumers' purchasing habits, their moods and what they choose to buy."
As H&M – the world second biggest fashion retailer – opened a huge flagship store in the Hungarian capital, their manager for the region Ralf Wein told us the weather has to be like Goldilocks' porridge – not too hot and not too cold for the season – and if it isn't all they can do is cut prices: "In the short term you can just react to these negative weather effects with mark downs. In the long term we have to see, if we have to develop more transitional collections in order to not be so dependent on the weather performance."
H&M (SE:HMB) opens #Europe's largest unit at Váci1 in #Budapest#Hungary#Retail#Propertyhttps://t.co/Aeu8H88gbKpic.twitter.com/MeB5dRtRty

— Andreas Andersen (@notyourcountry) April 30, 2016
The head of the Hungarian Trade Association György Vámos explained weather has a big impact on all retailers, but fashion stores are the most vulnerable: "Seasonality, the changing of the four seasons, is one of the most important factors in the fashion trade, besides consumer power. Fashion changes according to seasons, even as retailers try to follow the newest trends."
Which accounts for recent profit warnings in an industry with particularly tight profit margins and is why retailers are so keen to boost their online presence, which is not so weather dependent.
Two #online#retail trends that marketers need to know according to the latest Forrester</a> research: <a href="https://t.co/84lXdqyYts">https://t.co/84lXdqyYts</a> via <a href="https://twitter.com/Enterprisei">Enterprisei

— Salmon (@SalmonLtd) March 8, 2016