In the EU 'one in three deaths of under-75s is avoidable,' says Eurostat
Comments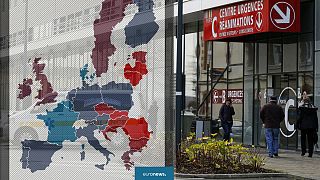 Romania leads the 2013 list of 'avoidable deaths' over under-75s, Eurostat says, while one in three EU-wide could have been avoided.
What is an avoidable death?
Death considered premature, which could have been avoided through optimal healthcare
Death of people under the age of 75
Total number and shares
The total number shows how many potentially avoidable deaths occurred in a member state. While the 'share' shows the percentage of all deaths of under-75s in any one population.
For example, there were 54,827 avoidable deaths registered in Romania, which equates to 49.4 percent of deaths of under-75s in 2013.
Highest shares
Romania, 49.4 percent
Eurostat figures show almost half of the deaths of under-75s in Romania could have been avoided in the light of current medical knowledge and technology.
Latvia, 48.5 percent
Lithuania, 45.4 percent
Slovakia, 44.6 percent
The average share across the European Union is 33.7 percent.
Lowest shares
France, 23.8 percent
That's less than half the figure given for Romania.
Denmark, 27.1 percent
Belgium, 27.5 percent
Netherlands, 29.1 percent
Reasons for avoidable death
In the European Union, heart attacks and strokes account for almost half of the total number of avoidable causes of death of those under 75.
Some 184,000 people (32 percent) died of a heart attack according to the 2013 figures.
Strokes come in as the second most common cause, with 93,900 deaths, or 16 percent. Colorectal cancers prompted 12 percent of deaths, which equates to 67,000 people.
That, along with breast cancer – the second most common cancer on the list – caused 117,800 ( or 21 percent of) avoidable deaths in 2013 in the EU.