Humanitarian Summit spotlight on the economics of aid
Comments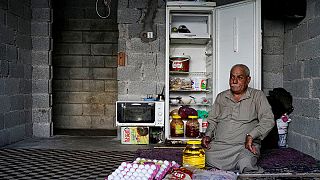 With tens of millions of people displaced from their homes and even their countries, the practicalities of the refugee crisis have been in focus at the UN organised Humanitarian Summit in Istanbul.
Participants showed how basic needs – shelter, food, water and clothing – are being met and in some cases touted for trade.
Euronews correspondent Bora Bayraktar reported: "The biggest humanitarian crisis since World War Two has an economic dimension, which is why this exhibition was set up here at the Humanitarian Summit. Organisations which tend to the needs of refugees and aid organisations have come together here."
Planting hope
The products and services on show included prepared emergency food rations, but there are also organisations like the Lemon Tree Trust which provides seeds that refugees can plant and grow in the camps where some of them are likely to be living for years.
Dr. Mikey Tomkins from Lemon Tree Trust told Euronews: "I think it's really important to move beyond just simple food security, where we are just delivering food for refugees and to empower refugees to produce their own food."
Crafting the future
Helping refugees feel useful and productive is another aspect. Small Projects Istanbul is a volunteer run charity which provides education for youngsters and opportunities for women.
Project manager Anna Tuson explained: "We put together this craft collective, where they can come to our community centre and make this range of products – hand-made bags, jewellery, different accessories – and we sell those and the proceeds go directly back to the ladies."
The exhibition space brought together volunteers like her with scores of international aid organisations and the hundreds of companies that supply them with everything from tents to toilets to tools to toys – a bazaar of housing, schooling and medical facilities for an ever growing problem.
World Humanitarian Summit concluded with flag lowering ceremony. #Humanistanbulpic.twitter.com/UqE4Hla2b7

— Turkish

MFA

(@MFATurkey) May 25, 2016