Private consumption and construction investment boost German growth in Q1
Comments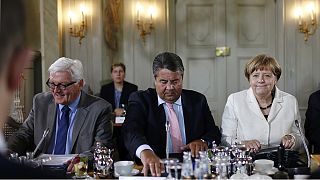 Germany's economy just enjoyed its best performance in two years thank to strong private consumption and increased building activity.
It was confirmed that gross domestic product rose 0.7 percent between January and March compared to the previous three months.
The European Central Bank's ultra-low interest rates encouraged people to shop rather than save and the construction sector got a boost from new accommodation for refugees.
BayernLB economist Stefan Kipar pointed out that spending on migrants is also trickling into other components of the GDP growth statistics.
"The higher state spending on refugees is lifting private consumption through the payout of social benefits," he said. "And it's also giving the construction sector an additional push because more refugee shelters are being built."
German Economy Grows at Strongest Pace Since Q4 2014: Q1 GDPhttps://t.co/G5JHI6sMqI#Europe#EconomicIndicatorspic.twitter.com/SsueLM9My4

—

WBP

Online (@WBPOnline) May 24, 2016
The strong domestic demand in Europe's largest economy more than compensated for sluggish export growth.
Record-low borrowing costs are encouraging a growing number of Germans to overcome a traditional aversion to buying their own flats and houses, with some also regarding property as an attractive investment.
The government and the central bank both expect Germany's economic upswing to continue, albeit at a slower pace.
For 2016 as a whole, Berlin predicts a GDP growth rate of 1.7 percent, on a par with last year, when expansion was driven mainly by strong private consumption and higher state spending.