Boglarka Kapas won her fourth gold of the European championships on Sunday, as Hungary emerged top of the final medal table to wrap up the final major completion before this summer's Rio Olympics.
Kapas, who had won 800m, 1500m and 4×200 m freestyle golds earlier in the week, clocked a time of four minutes 3.47 seconds to add the women's 400 metres freestyle title to her already impressive collection. Britain's Jazz Carlin finished some 1.38 seconds later for the silver.
"Amazing," was all Kapas could tell reporters when asked about her final race. "At first I thought I swam 4:08. Then I recognised that I'm one line up. I couldn't believe my eyes."
"4:03? No way, I'm so happy! This is so great. I'm happy that I dared to switch gears at 150m," she said. "This meet gave me enormous boost."
Kapas dominated the entire final from start to finish, never having a lap slower than 31 seconds – a consistency unmatched by the rest of the field. Carlin rebounded from a first 50 metre scare where she turned in fifth to remain in second for the remainder of the race.
Despite missing out on the European record set by Italy's Federica Pellegrini in 2009, before the non-textile performance-enhancing bodysuits were banned, Kapas' effort saw her move up to sixth in the world rankings and contribute another gold to Hungary's tally of
19 medals.
Hosts Britain also enjoyed a successful week in the pool, finishing with 22 medals in total, although they were still three golds short of Hungary who claimed ten. Two of those golds for Britain came in the men's and women's 4×100 metres medley relays, where the home crowd roared on their country to complete the double for the first time ever.
Britain's quartet of Kathleen Dawson, Chloe Tutton, Siobhan O'Connor and Francesca Halsall won the women's 4×100 metres medley relay with a near two bodylength lead over nearest challengers Italy in three minutes 58.57 seconds.
In the men's event, championship record holders France were pipped to the final touch by the British team of Chris Walker-Hebborn, Adam Peaty, James Guy and Duncan Scott, who clocked three minutes 32.15 seconds.
Olympic Champions Win Gold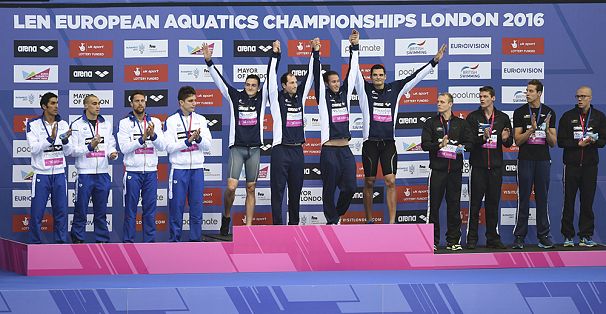 Elsewhere, France's Olympic champion Florentine Manaudou confirmed his billing as the hot favourite in Rio by winning his signature event, the men's 50 metres freestyle ahead of Ukraine's Andii Govorov.
Manaudou capitalised on a strong start to touch the wall first in 21.73 seconds, a time slower than his semifinal effort of 21.64, while Govorov clocked 21.79 for the silver. Britain's Ben Proud completed the podium by taking bronze in 21.85.
"I came here to win and I did it," Manadou said. "But I'm very disappointed with the time, I expected a much better one."
In the women's 50 metres freestyle, Olympic champion Ranomi Kromowidjojo of the Netherlands won convincingly in a new championship record time of 24.07.
Defending champion Francesca Halsall of Great Britain finished in 24.44 to claim second place, while Jeanette Ottesen of Denmark came in third with a time of 24.61.
" It was a fantastic feeling: before the race, when Halsall came out, the crowd was very loud," Kromowidjojo told reporters. "When we finished the race, the crowd wasn't that loud so I knew I had won. This is my first individual European gold, I wanted this really bad."