Australian election campaign hijacked by police raids
Comments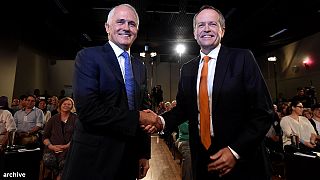 Australia's election campaign was hijacked on Friday by police raids on the Labor opposition, over a suspected leak of documents citing cost blow-outs in a multi-billion dollar broadband upgrade, sparking concerns about abuse of power.
Labor questioned the timing of the raids and whether the government had put pressure on police, while Prime Minister Malcolm Turnbull and the head of the Australian Federal Police (AFP) rejected any suggestion of political interference.
The controversy capped the second week of campaigning ahead of a national election set for July 2, in which polls indicate a tightly contested race between Labor and Turnbull's Liberal-National coalition government.
The unprecedented timing of the raids, which carried on until the early hours of Friday morning (May 20), also led to concerns it could have a negative impact on whistleblowers.
"This is about the right for the public to know the truth. Mr Turnbull is going to extraordinary long lengths to stop Australians finding out the truth about the cost of the NBN (National Broadband Network)," said Labor leader Bill Shorten.
"He is going after whistleblowers and he is smearing his political opponents. The public have a right to know the truth and whistleblowers have a right to protection."
Turnbull said that he had no prior notice of the raids and chastised Labor for questioning the integrity of police.
"The first I heard of the AFP investigation was yesterday when I was advised by the Justice Minister shortly after he'd been advised by the Commissioner," he told reporter.
Turnbull was communications minister for more than two years before deposing Tony Abbott in a party coup last year. He drew criticism for his decision to scale back the A$38 billion broadband programme, stopping short of connecting homes directly to the network amid cost overruns.
NBN aims to connect 93 percent of Australian homes and workplaces with optical fibre, providing broadband services in urban and regional areas. It was created in 2009 by the Australian government and is expected to be ready by 2020.
The AFP said in a statement that it had informed both the government and opposition before conducting the raids, as is standard procedure.
"In regard to government and political influence that has been commented on this morning, there has been no influence, no influence on the AFP in the conduct of this investigation," AFP Commissioner Andrew Colvin told reporters.
University of Sydney Emeritus Professor of Political Science and the Media, Rod Tiffen, said that the raids, coming as they have in the midst of a federal election campaign, were "unprecedented" and that it was unclear how it would play out.
"We, it's certainly extraordinary. I've never know anything at all like it in an election campaign," he told Reuters.
"I think that's really the key question: whether it was politically motivated in some sense."
Reuters