Terrorism likely cause of air crash in Egypt which kills 66
Comments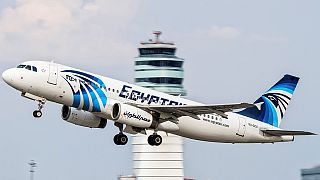 The Americans are talking about a bomb, and Egypt's Aviation minister thinks terrorism is the likely cause, but what is clear is 66 people have died in the crash of an Airbus in the waters off Egypt.
Fifteen are French, and Paris and Cairo have vowed to work together to find the culprits, and the plane.
The Egyptians had said the Greeks told them they found blue and white wreckage from the missing plane south of the island of Crete. This was later denied, but it is highly likely the Paris to Cairo A320 lies beneath the surface in this zone. There has been much confusion over several hours about the finding of wreckage, but the crash site remains unknown and no debris has been discovered.
At the time of its disappearance, the plane was flying over water 3000 metres deep, which could complicate salvage if it crashed there.
"If you analyse the situation properly, the possibility of having a different action or having a terror attack, is higher than the possibility of having a technical fault," said Egypt's Aviation Minister Sherif Fathi.
The head of the Russian secret service, the FSB, agrees with him. The plane fell off the radar when it entered Egyptian airspace. Within minutes the alarm was raised as the crew was not responding to calls and it became clear the plane was in difficulties of some sort.
Flight trackers revealed the plane had banked severely and lost height at around the time radar contact was lost. One merchant vessel reported seeing a bright explosion in the sky. A frigate of the Greek navy is investigating this claim.
President Barack Obama has offered US assistance including the use of an Orion spotter plane to join Greek planes criss-crossing the search zone and with a total of 12 nationalities involved there is no shortage of offers of international help.
"Another air disaster has been added to the list of recent accidents in Egypt, and it will certainly build economic pressure on the authorities, and security concerns. The cause of the accident will only be determined in the days to come," reports euronews' Mohamed Shaikhibrahim.