Clashes claim lives in Nagorno-Karabakh
Comments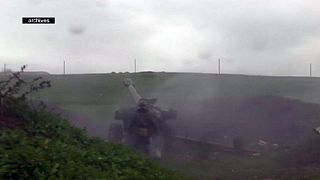 Fighting has continued to claim lives in the disputed region of Nagorno-Karabakh.
Azerbaijan says one of its soldiers died near the border, despite a freshly-agreed ceasefire.
Nagorno-Karabakh says one of its soldiers was killed by shooting from Azerbaijan after midnight.
What is the context?
The shootings happened around the time the presidents of Armenia and Azerbaijan, who were in Vienna, agreed on the need for a ceasefire and a peaceful settlement to the conflict in the disputed region.
Co-chairs of OSCE</a> Minsk Group met w/ Presidents from <a href="https://twitter.com/hashtag/Armenia?src=hash">#Armenia</a> & <a href="https://twitter.com/hashtag/Azerbaijan?src=hash">#Azerbaijan</a>, reiterated commitment to ceasefire. <a href="https://t.co/CLzKmrWiCX">pic.twitter.com/CLzKmrWiCX</a></p>&mdash; John Kerry (JohnKerry) May 16, 2016
The presidents of Armenia and Azerbaijan met with representatives of the US, Russia and France in a bid to end the violence in Nagorno-Karabakh.
The people involved were:
Armenian President Serzh Sargsyan
Azeri President Ilham Aliyev
US Secretary of State John Kerry
Russian Foreign Minister Sergei Lavrov
French delegation
It was the first meeting between the Armenian and Azeri presidents since violence flared last month.
The international community is concerned about instability in the region.
It serves as a corridor for pipelines carrying oil and gas supplies to world markets.
A US State Department official says both presidents have come close to a settlement before and says they are "not that far apart" on terms for a new accord.
Nagorno-Karabakh: the long view
The former Soviet states of Azerbaijan and Armenia fought a war over the mountainous region of Nagorno-Karabakh in the early 1990s.
Thousands were killed on both sides. Hundreds of thousands of people were displaced.
The war ended with a truce in 1994, although there has been sporadic violence since.
The ceasefire was shattered last month when Azerbaijan's army and Armenian-backed separatists exchanged heavy fire.