Australian government forced to think again on backpacker tax
Comments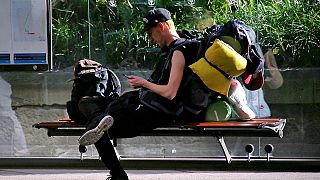 The Australian government has said it will look again at a planned tax hike for foreign travellers who work in the country.
A labour shortage for jobs like picking fruit means young backpackers have been encouraged to work on farms with special visas. They get to stay for a second year if they do three months work in rural Australia.
But faced with a big budget deficit, Prime Minister Malcom Turnbull put forward plans to increase the amount they are taxed.
Up until now people on working holiday visas have been allowed to earn up to A$18,200 (11,800 euros) tax free, the same as locals. Above that threshold have they paid 32.5 percent tax.
The government review follows farmers complaints that the tax is dissuading people from coming to Australia and consequently they are having trouble finding labourers.
That is proved by a fall in the number of working holiday visas issued.
Back-tracking on the backpacker tax
The ruling conservative government – which relies heavily on rural voters – faces a tight election in early July and so has put the tax plan on hold until the end of this year.
Here's my attempt to explain what's happened with the Backpacker Tax. abcnews</a> <a href="https://twitter.com/hashtag/ausvotes?src=hash">#ausvotes</a> <a href="https://twitter.com/ABCRural">abcruralhttps://t.co/BflTEY9Jkc

— lucy barbour (@lucybarbour) May 17, 2016
"[The review] is looking at much broader issues around labour force, particularly in rural and regional communities and how it affects our farmers but also our tourism sector as well," Assistant Treasurer Kelly O'Dwyer said.
Australia's A$34.8 billion (22.5 billion euro) international tourism industry was threatened by the higher tax, with young travellers potentially deciding not to stay as long.
Many on working holiday visas also take jobs in the tourism industry.
In total backpackers spend A$4.3 billion (2.8 billion euros) a year, worth about 12 percent of all international tourist spending Reuters reported.