Blame game: Iranians to miss out on hajj
Comments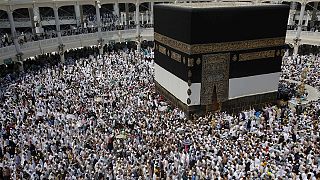 Iranian Muslims will miss out on the annual hajj pilgrimage to Mecca in Saudi Arabia in September, as Tehran and Riyadh trade blame over a failure to agree organisational details.
Visa battle
The regional rivals cut diplomatic ties in January after protesters in Iran attacked Saudi diplomatic missions following the execution of a prominent Shi'ite cleric (Nimr Baqr al-Nimr) in the Sunni-led kingdom.
Since then the Swiss embassy in Tehran works as the "Interests Section of Saudi Arabia in Iran". The Iranian authorities proposed that it would become the responsible office for issuing visas, but Riyadh refused. The Kingdom proposed a third country for Iranian pilgrims to ask for visas, this time Tehran said No.
Islamic Guidance and Culture Minister Ali Jannati said on Thursday that the Saudis "did not accept our proposals on security, transportation and visa issuing for Iranian pilgrims".
تا اينجايي كه من دنبال مي کنم بایکوت #حج توسط ایران به خاطر رفتار و سیاست های سعودی ها، حمایت بیشتری داد تا مخالف. pic.twitter.com/IYXA7GgTmM

— Omid Memarian (@Omid_M) 13 mai 2016
Tragedy in Mecca
Last year's hajj was marred by the death of over 2,000 pilgrims, 464 of them Iranian, in a stampede during the crowded pilgrimage to Mecca, Islam's holiest city.
Tehran suggested Riyadh was incapable of managing the event, after that the relation of two local powers became most hostile than ever.
A culture ministry official said Iran was "very concerned over the security of Iranians during the holy ceremony" and that talks with Saudi authorities were continuing.
Saudi reaction
The Saudi hajj ministry said Tehran's delegation had refused to sign an agreement laying out arrangements for this year's hajj, according to a statement carried by state-linked news site Sabq.
The statement said Iran's demands included the granting of visas inside Iran and transport arrangements that would evenly split the pilgrims between Saudi and Iranian airlines.
"Iran is the only country that refused to sign the agreement on the hajj. It insisted on a number of unacceptable demands," Minister of Hajj and Umra Mohammed Bintin told state television station Ekhbariya.
Political rivalry
Saudi Arabia's conservative Sunni monarchy sees Shi'ite- dominated Iran as the paramount threat to Middle East stability because of its support for Shi'ite militias that Riyadh says have inflamed sectarian violence.
The two countries are already involved in two mains crises in the Mideast, Syria and Yemen. Their competition in OPEC has influenced the oil market.
Not the first time
It's not the first time that Iranian Muslims will miss the hajj pilgrimage. Before the Islamic revolution, in 1943 an Iranian pilgrim was executed in Saudi Arabia and Iranian authorities stopped citizens doing the hajj for five years.
After the 1979 revolution, a clash between Shia pilgrim demonstrators and the Saudi Arabian security forces during the Hajj pilgrimage in 1987 resulted in hundreds of victims from both sides. The hajj was suspended for three years for Iranians.
alireza_rezaei</a> <a href="https://twitter.com/Faranak__">Faranak__ ازسال ۶۶به مدت ۴سال بدلیل کشتار حجاج ایرانی در مکه ، حج واجب هم بدستور امام خمینی لغو شده بود

— حمید احدی (@hamidahadi313) 14 avril 2015