"My home is a stadium" - Euronews talks to refugees in Athens
Comments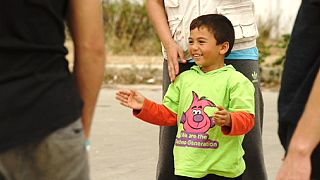 Elliniko was once the pride of Greece.
It was the venue for the hockey and basketball fixtures during the 2004 Olympics.
euronews</a> <a href="https://twitter.com/hashtag/AidZone?src=hash">#AidZone</a> is in <a href="https://twitter.com/hashtag/greece?src=hash">#greece</a> <a href="https://twitter.com/hashtag/elliniko?src=hash">#elliniko</a> temporary camps <a href="https://t.co/Gjh1bCkG63">pic.twitter.com/Gjh1bCkG63</a></p>&mdash; Monica Pinna (_MonicaPinna) May 11, 2016
These days, the stands serve a different purpose.
The stadium has been turned into a camp for refugees.
Inside the disused Elliniko airport. Going nowhere. #refugee#greecepic.twitter.com/DQf6ERlslu

— BrianGing Al Jazeera (@brianging) May 11, 2016
Since January, more than 155,000 have arrived in Greece by sea, according to the International Organisation for Migration.
More than thousand of them are living in the stadium at Elliniko.
Some say conditions are harsh.
Shima Momeni is originally from Afghanistan.
"We are homeless," she told Euronews. "We only get the most basic treatment. We are only getting the most basic medication."
It is estimated that almost 40% of refugees in camps in Greece are children.
#SavetheChildren opened new spaces in #Athens refugee camps this week to keep mothers & their babies safe & healthy pic.twitter.com/jRSbKVL4bd

— Sacha Myers (@sacha_myers) May 7, 2016
The charity Save The Children says that translates into around 22,000 youngsters in temporary camps like this.
"They live in very cramped conditions, often with other people, so families are living on top of each other. They are living in tents or they are sleeping on the floor, there is very little privacy and often children are getting quite sick because of the cramped living conditions and the poor hygiene conditions as well".
refugee camp," spokesperson Sacha Myers told Euronews.
It is estimated 15,000 people are living in official and makeshift camps in and around Athens.
The majority are Afghans, followed by Syrian and Iraqi nationals.