Kerry tries to reassure nervous European banks on trade with Iran
Comments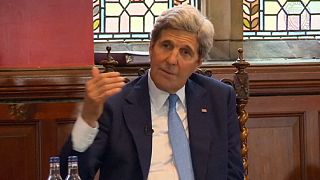 The US Secretary of State John Kerry has said European banks have nothing to fear from resuming business with Iran now that some sanctions have been lifted.
We want to make it clear that legitimate business, which is clear under the definition of the agreement, is available to banks
At a meeting in London with top bankers – including from Barclays, HSBC, Standard Chartered and some European lenders – Kerry sought to reassure them saying they only have to make proper checks on trade partners and pursue "legitimate business".
Reportedly about 10 executives from leading European banks took part in the meeting, along with British Foreign Secretary Philip Hammond, the Secretary of State for Business Sajid Javid and Norman Lamont, trade envoy to Iran.
Secretary JohnKerry</a> and British FM <a href="https://twitter.com/PHammondMP">PHammondMP meet with European bank leaders: https://t.co/Mjt32kgU3epic.twitter.com/AwXsIrO0MN

— Department of State (@StateDept) May 12, 2016
European banks remain sceptical it is now safe for them to restore trade ties with Iran and have largely held back.
One problem is that the banks fear legal business could be retroactively made illegal if sanctions are re-imposed.
In addition many state laws still ban pension groups and funds from investing in overseas companies that do business in Iran.
Banks nervous, Tehran blames US
Lenders including BNP Paribas, HSBC and Standard Chartered have paid out billions of dollars in fines to resolve allegations of past sanctions-busting.
Standard Chartered said after the meeting: "Will not accept any new clients who reside in Iran, or which are an entity owned or controlled by a person there, nor will we undertake any new transactions involving Iran or any party in Iran".
Ayatollah Ali Khamenei, the most powerful figure in Iran, has also blamed the United States for delays in the resumption of trade.
"The US Treasury… acts in such a way that big corporations, big institutions and big banks do not dare to come and deal with Iran," Khamenei said in March.
The United States and Europe lifted sanctions in January under a deal with Iran to limit its nuclear programme, but other US sanctions remain, including a ban on Iran-linked transactions in dollars being processed through the US financial system.