One dead in 'terror' knife attack on passengers at German station
Comments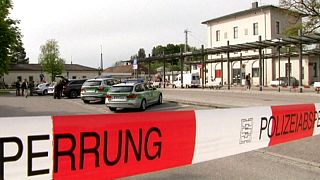 A man has died and three others were injured in a knife attack at a German station.
The attacker, a German national, was arrested and police said his actions appeared to have an Islamist motive.
The alarm was raised just after 5 am at the station at Grafing near Munich.
The dead man was aged around 50, as were the other casualties.
Police said the knifeman made remarks at the scene which point to a political motive.
Witnesses reported that he shouted "Allahu Akhba".
Ein Schwerverletzter Hat Messerstecherangriff von #Grafing islamistischen Hintergrund?: https://t.co/tPgW7xi4rnpic.twitter.com/esaVgXjSp9

— BR24 (@BR24) May 10, 2016
Der Messerstecher von #Grafing war nach BR-Informationen "ein nicht polizeibekannter Deutscher". Das LKA ermittelt. pic.twitter.com/8UY3IlDT81

— BR24 (@BR24) May 10, 2016