Dwayne wades into the Raptors in the NBA semi-final playoffs
Comments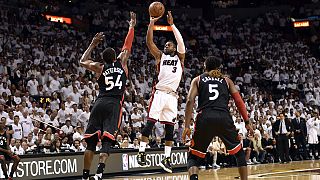 The Miami Heat entertained the Toronto Raptors and the home crowd in game four of the NBA Eastern Conference semi-final at the American Airlines Arena.
Trailing 2-1 in the best of seven series Miami needed a win to prevent the Raptors from gaining a two game cushion.
It was real nailbiter for the expectant Heat fans as the Raptors sensed blood.
Cue Dwayne Wade a Miami man in prime form Wade came away with 30 points.
30+ points in back-to-back postseason games for DwyaneWade</a> - first time since 2010.<a href="https://twitter.com/hashtag/FatherPrime?src=hash">#FatherPrime</a> <a href="https://t.co/3VSxrMkWCd">pic.twitter.com/3VSxrMkWCd</a></p>&mdash; Miami HEAT (MiamiHEAT) May 10, 2016
Miami launched a desperate attempt to claw back a nine-point deficit at the end of normal time and thanks to a Wade layup the match went to overtime.
The MiamiHEAT</a> outlast the <a href="https://twitter.com/Raptors">Raptors in OT to tie the series at 2 games a piece. #NBAPlayoffspic.twitter.com/kOfYUyzBNQ

—

NBA

on

TNT

(NBAonTNT) <a href="https://twitter.com/NBAonTNT/status/729868754809688064">May 10, 2016</a></blockquote> <script async src="//platform.twitter.com/widgets.js" charset="utf-8"></script> <b></b> Goran Dragic claimed 15 points, including a three-point play that effectively clinched it for the Heat late in overtime. <b></b> <blockquote class="twitter-tweet" data-lang="en"><p lang="en" dir="ltr">"Nobody said it&#39;s going to be easy. Three games in OT... every possession counts."<br><br>- <a href="https://twitter.com/Goran_Dragic">Goran_Dragic pic.twitter.com/Q6Ruv5NXbO— Miami

HEAT

(MiamiHEAT) <a href="https://twitter.com/MiamiHEAT/status/729887523271540737">May 10, 2016</a></blockquote> <script async src="//platform.twitter.com/widgets.js" charset="utf-8"></script> <b></b> Miami win 94-87 the series is tied at 2-2, heading to Toronto for Game 5 on Wednesday. <b></b> <blockquote class="twitter-tweet"tw-align-center data-lang="en"><p lang="en" dir="ltr">Toronto City Lookout by KMcLachlan <a href="https://t.co/plMXg80gMX">https://t.co/plMXg80gMX</a> <a href="https://twitter.com/hashtag/Photography?src=hash">#Photography</a> <a href="https://twitter.com/hashtag/Architecture?src=hash">#Architecture</a> ReTweet <a href="https://t.co/nWytCeez33">pic.twitter.com/nWytCeez33</a></p>&mdash; Popular Photos (Go4fotos) April 28, 2016