'Made in Germany' sees increased international demand
Comments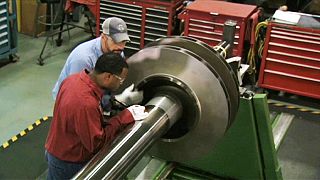 German industrial orders rose more than expected in March.
The surprisingly strong numbers suggest industrial output is likely to pick up in the coming months after the solid start to the year.
Just released data show buoyant foreign demand.
While domestic orders fell by 1.2 percent, those from abroad rose by 4.3 percent and they jumped by 6.2 percent from countries beyond the eurozone.
So-called capital goods and consumer products enjoyed the greatest growth.
Dirk Schlotboeller, economist at DIHK Chambers of Commerce, said that weak domestic investment remained a problem for the German economy: "Domestic orders are again disappointing, the trend is still pointing downward."
"Despite the overcast foreign trade environment, German industry was able to post a noticeable increase in orders from abroad," the Economy Ministry said in a statement, adding it expected industry to continue its moderate growth pace.
Europe's biggest economy is expected to grow this year by about the same amount as last year's 1.7 percent despite weaker exports from an economic slowdown in China and other emerging markets.