Canada: Alberta wildfire threatens communities south of Fort McMurray
Comments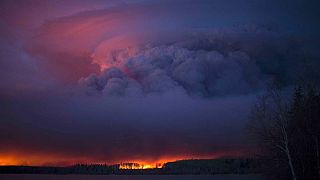 Canadian officials have warned that tens of thousands of residents in the town of Fort McMurray in Alberta will not be able to return home any time soon after the devastating wildfire that has ravaged the area.
The blaze is still out of control. A dozen major facilities in the oil town have already been shut down or seen production cut as a precaution.
The entire province of Alberta is under a state of emergency.
Alberta's Premier Rachel Notley said damage in Fort McMurray was extensive and the city was not safe for residents.
Now the fire is said to be threatening communities as far as 50 kilometres south of the city. It now covers an area roughly ten times the size of Manhattan.
Three more communities have been forced to flee a dangerous wildfire in Canada. https://t.co/fTnNRv6swRpic.twitter.com/Q48SXk9cnk

— New York Times World (@nytimesworld) May 5, 2016
At least 88,000 residents have been forced to flee. Days later, firefighters are still battling to protect homes, businesses and other buildings. Hundreds of homes have been destroyed.
While no casualties have been reported as a result of the fires, at least one fatal vehicle crash has occurred along the evacuation route.
People have been sleeping in emergency centres – many forced to leave their belongings to the fire's mercy.
Volunteers have chipping in, preparing hygiene kits complete with toothbrushes and soap to be sent to the stricken areas.
Evacuees find safe haven as wildfires engulf Canada oil region https://t.co/zM6tZs1p0I#FortMcMurray#CanadaFirepic.twitter.com/6R0OLuraLP

— AFP news agency (@AFP) May 5, 2016
The situation for the next few days remains critical.
A forecast of cooler temperatures and possible rain has raised hopes the blaze can start to be controlled. However, for the moment, changing winds are making the fire's course difficult to predict and manage.
Oil up on fire curbs Canada output; higher dollar, stockpiles cap gains - https://t.co/kGRh4haOLZpic.twitter.com/OMLM0cytI2

— Reuters Business (@ReutersBiz) May 5, 2016