Six days on, survivors are found in collapsed Kenya building
Comments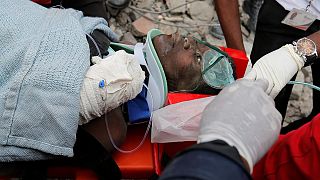 Man and two women rescued
Fourth woman survived in a cavity
Around 140 now saved
Police say 39 dead
Rescuers in Kenya pulled four more survivors from the rubble on Thursday, nearly a week after a six-storey building collapsed in Nairobi.
The first to be pulled alive was a woman who was eight months pregnant. Search teams used power tools and their bare hands to pull her out of the cavity that had protected her from the debris.
There were cheers from the crowd gathered near the apartment block in the Huruma disctrict of the Kenyan capital.
Great News! Woman rescued alive 6 days after being trapped inside the rubble of the collapsed building in Huruma pic.twitter.com/DTuop49YvB

— Kenya Red Cross (@KenyaRedCross) May 5, 2016
Found under slabs of concrete, Elizabeth Night Odhiambo, 24, was rushed to hospital. Tragically her unborn baby did not survive, leaving her husband feeling heartbreak but also relief at his wife's miracle rescue.
"My wife is not in a bad state," said Stephen Onyano.
"She is okay because when I walked in, the doctors asked her if she could recognise me and she told them that I was her husband and that she knew me."
Later on Thursday, Kenya's Red Cross announced the rescue of three other people.
Super news! Three more people have been rescued alive from the Huruma building collapse. One male and two female. pic.twitter.com/8P93E2dqvw

— Kenya Red Cross (@KenyaRedCross) May 5, 2016
Already on Tuesday a baby was found alive and the discovery of live rabbits in the wreckage also gave search teams hope.
Police said it was "a sign of life being in that building" and "means there is a circulation of oxygen".
Kenya Red Cross takes 9 rescued rabbits to temporary animal shelter (KSPCA). pic.twitter.com/I33K2Vkp6b

— Kenya Red Cross (@KenyaRedCross) May 5, 2016
Rescuers at collapsed buiding in Huruma, rescued 9 rabbits alive. Hope of life under the rubble. Photo:Pius Masai pic.twitter.com/RJs3gsqaL2

— Kenya Red Cross (@KenyaRedCross) May 4, 2016
Police now say 39 people are confirmed dead with dozens more missing. Kenyan Red Cross officials say it is not clear whether those listed were caught in the collapse or escaped but have not been traced.
About 140 people have been rescued, based on the four freed on Thursday.
Investigations meanwhile are continuing into the residential building itself amid claims that it had been earmarked for demolition and did not have an occupancy permit.
Two owners of the building and three local officials have been questioned by police and were released on bail on Wednesday.
The disaster was the latest of its kind in a rapidly-expanding city. Several other buildings in Nairobi have collapsed in recent years, with fewer deaths.