New Frida Kahlo and Diego Rivera expo opens in Mexico
Comments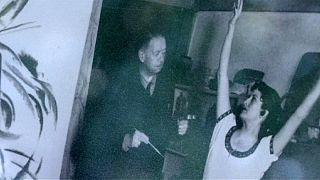 A new exhibition of photos and letters never before seen, belonging artists Frida Kahlo and Diego Rivera are going on show in Mexico City. Their on-off stormy marriage was among the most prominent of the 20th century art world.The expo promises to reveal a more intimate side of their relationship.
1939 Portrait of Frida Kahlo. Oil on asbestos cement shingle. About 14 × 10 inches. By Diego Rivera LACMA</a> <a href="https://t.co/fWFNkg1waR">pic.twitter.com/fWFNkg1waR</a></p>&mdash; I love to teach (Kathryn_Ortiz) May 3, 2016
. The exhibition is called "Correspondence… Files and funds from the Cenidiap – National Research Centre, Documentation and Information of Plastic Arts.
"It's a reflection of life. It's a reflection of the processes of artists, the processes of creation. But it's also a reflection of human relations," said exhibition curator, Eduardo Espinoza.
Diego #Rivera and Frida #Kahlo march with artists on #MayDay 1929. pic.twitter.com/HbxbhXENB7

— Alessandra Bava (@alessandrabava) May 1, 2016
Rivera's studio has been chosen as the venue for the expo because it was emblematic during the time when some letters were written between such artists.
Topics on exhibition are separated into four categories: "Power and politics," "Education and work," "Love and friendship," and finally "Illness and death".