Evacuations increase as wildfire spreads in Alberta, Canada
Comments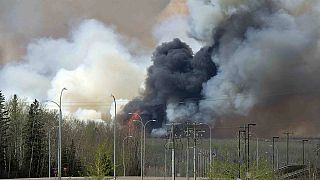 A huge wildfire raging near Fort McMurray in central Canada has spread, forcing further evacuations and pushing the emergency operations centre 300 km south.
Three more communities have been forced to flee a dangerous wildfire in Canada. https://t.co/fTnNRv6swRpic.twitter.com/Q48SXk9cnk

— New York Times World (@nytimesworld) May 5, 2016
It has increased at least five-fold in size since it broke out on Sunday (May 1) and now covers an area of 850 square km.
The entire province of Alberta is under a state of emergency.
The Premier of Alberta Province, Rachel Notley, gave this statement:
"It's not just Fort McMurray, although without question, this is by far the largest and most severely affected community. So we're asking all Albertans to be extremely careful and do everything they can to reduce all fire hazards."
Some 88,000 people have been forced to evacuate Fort McMurray, while over 1,600 homes and other buildings have been destroyed.
Evacuees find safe haven as wildfires engulf Canada oil region https://t.co/zM6tZs1p0I#FortMcMurray#CanadaFirepic.twitter.com/6R0OLuraLP

— AFP news agency (@AFP) May 5, 2016
No casualties have been reported as a result of the fires, however, at least one fatal vehicle crash has occurred along the evacuation route.
A forecast of cooler temperatures and possible rain has raised hopes the blaze can start to be controlled. However, for the moment, changing winds are making the fire's course difficult to predict and manage.
The cause of the fire is unknown, however authorities say tinder-dry brush, low humidity and the winds are preventing firefighters from stopping the flames.
A number of major pipelines have been closed in the oil-producing region, with the blaze halting up to a third of Canada's daily crude capacity.
Oil up on fire curbs Canada output; higher dollar, stockpiles cap gains - https://t.co/kGRh4haOLZpic.twitter.com/OMLM0cytI2

— Reuters Business (@ReutersBiz) May 5, 2016