UCI use iPad to detect mechanical doping
Comments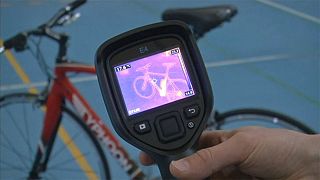 World Cycling's governing governing body the UCI this week showed off it's new method of detecting mechanical doping – the sports newest threat.
At its headquarters in Aigle, Switzerland technical manager Mark Barfield showed reporters a converted iPad which the UCI is using to test whether a bike has been fitted with an electric motor.
Barfield explained: "We use a magnetic resonance test using an iPad, an adapter, and it uses, it creates, a structured magnetic field. It measures the resistance in that magnetic field and that gives us an indication of a ferrous item, a motor or indeed, a solid mass."
There have been rumours of mechanical doping in the pro peloton with two times Tour de France winner Chris Froome recently saying he's had his bikes taken apart 'around a dozen times' by UCI inspectors.
In January, 19-year-old Femke Van den Driessche became the first cyclist to be banned for mechanical doping after a motor was found in her bike during the under 23 Cyclocross World championships.
She was banned for six years.