Political turmoil on the horizon in Turkey?
Comments
By
Euronews
with
Reuters, Financial Times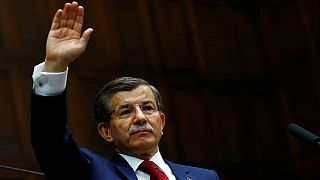 Turkey could be thrown into political uncertainty in a matter of weeks as AKP officials announce the prime minister will not run for re-election as leader of the ruling party.
It follows a meeting of more than one and a half hours with President Recep Tayyip Erdogan.
Ahmet Davutoglu was handpicked by Erdogan for the role of leader and premier. However, there have been increasingly public tensions in recent weeks over issues such as relations with Europe and the imprisonment of government critics.
An extraordinary AK Party congress is due to be held in the coming weeks, with one official telling Reuters it is likely to take place anytime from May 21 to June 6 – the beginning of the Islamic holy month of Ramadan.
While he has proven effective at negotiating with the European Union, Davutoglu has failed to achieve the same success with Erdogan and his supporters.
Turkey is facing mounting security challenges as a result of the Syrian civil war and ongoing violence in the largely Kurdish south east.