Barack Obama: 'Comedian-in-Chief'
Comments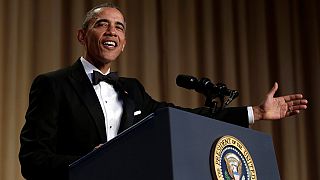 Everyone came prepared for laughs at the annual White House correspondents' dinner in Washington on Saturday.
You know I'm gonna talk about Trump!
And keynote speaker President Barack Obama did not leave them disappointed.
"The free press is central to our democracy…" he said earnestly at the black-tie event bringing together journalists, media moguls, Hollywood stars and Capitol Hill power brokers, before
breaking into a huge grin and adding:
"Nah, I'm just kidding! You know I'm gonna talk about Trump!"
And Obama did just that, making fun of the billionaire businessman, as he did notably at the same event in 2011.
#TBT: President Obama tears apart the idea of a Trump presidency at the 2011 White House Correspondents Dinner.https://t.co/McxeILv0wS

— The Democrats (@TheDemocrats) 28 avril 2016
Unlike then, however, Trump, now the Republican presidential frontrunner, decided not to attend this year's event.
"And it is surprising," Obama said.
"You got a room full of reporters, celebrities, cameras and he says 'no'. Is this dinner too tacky for The Donald. What could he possibly be doing instead? Is he at home, eating a 'Trump Steak', tweeting out insults to Angela Merkel? What is he doing?"
And that wasn't all.
"They say Donald lacks the foreign policy experience to be president," Obama said.
"But in fairness he has spent years meeting with leaders from around the world: Miss Sweden, Miss Argentina, Miss Azerbaijan," the president went on, to howls of laughter, referring to contestants on the Miss Universe pageant that Trump formerly co-owned.
Obama's comedic skills are no secret and the Democrats vying to take his place in the Oval Office were not safe either.
'You've got to admit it, though," he said.
"Hillary trying to appeal to young voters is a little bit like your relative who just signed up for Facebook. 'Dear America, did you get my poke? Is it appearing on your wall? I'm not sure I am using this right'."
Obama's speech included a short film, taking a funny look at what life might be like after the White House.
Watch @POTUS in "Couch Commander." https://t.co/p1xFpHrSmP

— The White House (@WhiteHouse) 1 mai 2016
Whoever wins the US election in November, Obama's stand-up routine will be a hard act to follow.
"With that, I have just two more words to say: Obama Out." —@POTUS#WHCDpic.twitter.com/RQSDh92YsU

— The White House (@WhiteHouse) 1 mai 2016