Paris attacks suspect Abdelslam at high-security Paris prison
Comments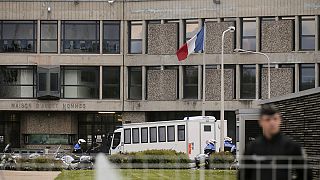 Key suspect in the Paris Attacks, Salah Abdelslam, has spent his first night at Europe's biggest prison.
He will be kept in solitary confinement at the high-security facility in the south of the French capital.
Abdelslam was extradited to France from Belgium on Wednesday.
Geraldine Henneghien, the mother of an 18-year-old man who was killed in Syria after joining ISIL two years ago, spoke at a conference against extremism.
"I hope he [Abdeslam] will talk and that he will tell us a lot about all these recruiters, because – rather than focusing only on all the young people who went there [in Syria] – it would be good to arrest all these people who continue to recruit the young people," said Henneghien.
Abdelslam was Europe's most wanted fugitive until his capture in March after a four-month manhunt.
Some Parisians said they were relieved after his extradition to France.
"I think it is understandable that he is in France and that he's judged in France as well," said Giovanna Contini. "I don't know if Belgium would also like to have this man on trial for what he did in Belgium afterwards, but I think it is normal and necessary (referring to the extradition), to try to ease things, especially for the families."
Investigators believe Abdelslam is the sole survivor among a group of militants who killed one hundred and thirty people in a spate of shootings and suicide bombings in Paris in November.