North Korea raises tensions with two missile launches
Comments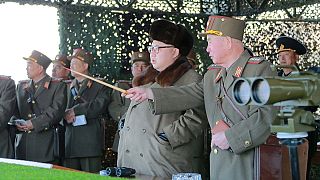 North Korea has reportedly launched two missiles. On Thursday South Korea's defence ministry said its neighbour had fired what appeared to have been two intermediate range ballistic missiles. One crashed, the other the ministry said was also a failure.
The missile testing is seen as an attempt to gain leverage in future negotiations over Pyongyang's nuclear ambitions.
The escalation has raised tensions in the region and angered China – North Korea's main political ally and an economic partner.
"As a close neighbour of the peninsula , we will absolutely not permit war or chaos on the peninsula. This situation would not benefit anyone," Chinese President Xi Jinping told a group of Asian foreign ministers on Thursday.
Tension on the divided Korean peninsula has been taut since Pyongyang conducted its fourth nuclear test in January and a rocket launch a month later, seen as a disguised ballistic missile test.
North Korea claims its pursuit of nuclear weapons is justified because of what it said is the "hostile policy" of the US. It has offered to halt nuclear tests if the US suspends its annual military drills with South Korea.
President Barack Obama dismissed the proposal. Another nuclear test is expected in the run-up to next week's ruling party congress.
The congress on May 6 will be the first in 36 years at which Pyongyang's young leader Kim Jong Un is expected to try and cement his leadership.
It is also meant to boost the prestige of the party which has suffered a huge decline as a North Korea defector explained.
"The perception of joining the Party has weakened because there was a large number of Party members who starved to death during the period of 'Marching of Hardship'. Even Party members think that membership could not feed them, and they should make money instead of joining the Party," said Seo Jae-Pyoung.
The Congress is expected to adopt the leader's "byongjin" policy of simultaneously pushing for economic development and nuclear weapons capability.
Many analysts remain skeptical about the strategy as the North's economy is suffocated by the sanctions imposed by the United Nations Security Council.
What economic growth the regime has managed is a result, to a large extent, of its economic links with China.
Even though Beijing is unhappy about Pyongyang's nuclear ambitions, it is also reluctant to use any economic leverage to punish North Korea.
The Chinese fear that harsh sanctions could lead to the collapse of the regime. That could in turn open the prospect of the North being absorbed by the Republic of Korea – South Korea – which is a US ally.