Will Turkey remain a secular republic?
Comments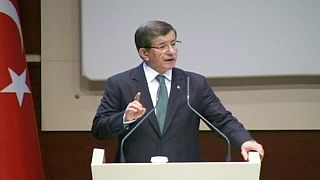 Secularism will be in the new constitution as the principle that guarantees people's freedom of religion and faith
Davutoglu guarantees secular principle will remain
Follows uproar after parliamentary speaker's comments
What is happening?
The Turkish government says the country's planned new constitution will keep its secular principles.
The guarantee comes after the speaker of parliament triggered uproar by calling for a religious national charter.
Davutoglu: Turkish constitution would guarantee secularism https://t.co/E8ZBQVmGy7

— New Europe (@New_Europe) April 27, 2016
Prime Minister Ahmet Davutoglu told a gathering of the governing AK Party that freedom of worship will be guaranteed.
"Secularism will be in the new constitution that we are preparing as the principle that guarantees people's freedom of religion and faith and ensures the state's equal attitude to all faith groups."
"The new constitution will espouse the concept of a libertarian secularism, rather than an authoritarian one," Davutoglu added.
Why has Davutoglu said this?
It comes in the wake of an outcry sparked by the speaker of Parliament earlier this week.
Ismail Kahraman said Turkey needed a religious constitution.
#Turkey's parliament speaker Kahraman demands Islamic constitution https://t.co/3PQYZOx59cpic.twitter.com/9QoeAA6iFw

— dwnews (@dwnews) April 26, 2016
He added later that this was a personal view and the new constitution should guarantee religious freedoms.
The AK party is pushing to replace the existing constitution which dates back to the period after a military coup in 1980.
Kahraman's role is particularly sensitive. As speaker, he is overseeing efforts to draft a new text.
How did people react to his comments?
Condemnation from opposition figures and a protest on the streets.
AKP, opposition parties reacted Kahraman saying "Secularism shouldn't be in constitution" https://t.co/wz5UVBEDLxpic.twitter.com/YBMNPtnjBb

— bianet English (@bianet_eng) April 27, 2016
But isn't Turkey a Muslim country?
Not in institutional terms.
It is a secular republic, founded in the 1920s by Mustafa Kemal Ataturk.
Although it has a majority Muslim population, religious influence is forbidden in public institutions.
However, President Recep Tayyip Erdogan, and the governing AK Party he founded, have tried to reintroduce the role of religion into public life.
They have expanded religious education and allowed the head scarf to be worn in colleges and parliament.
It had previously been banned.