IMF warns on cheap oil effects, but is encouraged by Gulf economic reform plans
Comments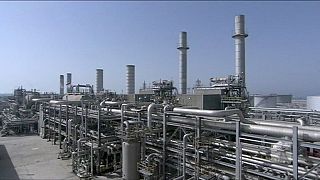 The International Monetary Fund has calculated that oil exporting countries in the Middle East and central Asia lost $390 billion (346 billion euros) in revenue due to lower crude prices last year.
Masood Ahmed, the IMF's director for the region, is warning it should brace for losses of between $490 billion (435 billion euros) and $540 billion (480 billion euros) this year, compared to 2014 when oil prices were higher.
Speaking in Dubai as the Fund released its latest economic outlook, Ahmed said that will translate into budget deficits and slower economic growth.
IMF's Masood: #GCC's average growth rate for next 5 years less than that in last 10 years https://t.co/boNloJrJGcpic.twitter.com/6u1YbYiBW7

—

IMFL

ive (@IMFLive) 25 April 2016
Ahmed did say he is encouraged by the economic reform plans of Saudi Arabia and other Gulf states that are heavily dependent on oil to finance their spending.
The IMF has encouraged reforms, such as lifting subsidies and tightening public sector wage bills, to off-set the impact.
"I do see in a number of countries action to address the budget deficit," Ahmed said in an interview with Reuters. "That gives us encouragement and comfort."
In its latest report on the region, published on Monday, the IMF said countries still needed to do more to cut budget deficits, rebuild their financial reserves and save enough money for future generations.
Saudi reforms
The IMF report was released just before Saudi Arabia's Deputy Crown Prince Mohammed bin Salman announced a sweeping reform plan.
Prince Mohammed, a son of the Saudi king who is also head of the country's economic council, said the state-controlled Public Investment Fund had been restructured to become a hub for Saudi investment abroad, partly by raising money through sales of shares in national oil giant Saudi Aramco.
"We restructured the fund. We included new assets in the fund, Aramco and other assets, and we fixed the problems of the current assets that the public investment fund owns, both in terms of companies and other projects," he said.
"Initial data say the fund will have control over more than 10 percent of global investment capacity."
He added: "I think by 2020, if oil stops we can survive. We need it, we need it, but I think in 2020 we can live without oil."
#SaudiAramco valuation will exceed $2 trillion according to #SaudiArabia's Deputy Crown Prince Mohammed bin Salman – https://t.co/KuvhpPS2cO

—

PIPELINE

MAGAZINE

(@PIPELINEtweets) 25 April 2016