US Justice Department drops iPhone unlocking case against Apple
Comments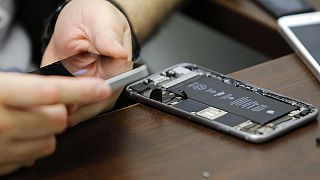 The US Department of Justice has dropped a potentially precedent-setting case against Apple.
Prosecutors were attempting to force the tech giant to help unlock an iPhone they said could provide helpful information pertaining to a drug lawsuit.
Someone has now given the authorities the phone's pass code.
New York Police Chief, Thomas Galati, gave the following statement in court:
"In the past a phone or a wiretap, again, legally obtained from a judge would alert the police officer to drop-off locations, hideouts and target locations. Now we are literally in the dark and criminals know it too… This leaves the police, prosecutors and the people we are sworn to protect in a very precarious position. What is even more alarming is that the position is not dictated by our elected officials, or our judiciary system or our laws. Instead it is created and controlled by corporations like Apple and Google."
Apple has yet to comment, although the company had previously argued that the Justice Department had not proven that it had exhausted all other methods to obtain data from the phone.
In March, 2016, prosecutors dropped further controversial efforts to force Apple to help unlock a phone used by one of the San Bernardino shooters.
Revelations have emerged that the FBI paid an unidentified third party in the region of one point three million dollars to access the device.